Kaushalya Krishnamurthy, a lot of that is coming from a great movie ..
Kaushalya Krishnamurthy, a lot of that is coming from a great movie ..
24 Aug,2019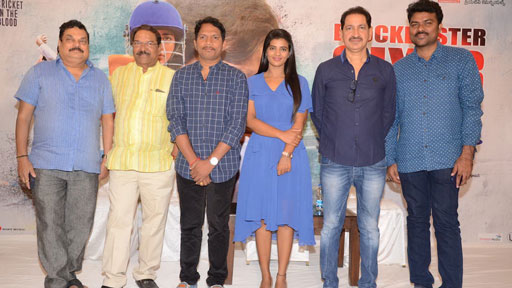 Aishwarya Rajesh, natakiriti darajendraprasad, Karthik Raju, Vennela Kishore Rao in lead roles, directed the production bhimaneni Creative Commercials banner No. 47 presented as a Creative Producer keesramaravu keevallabha movie 'The Cricketer Kaushalya Krishnamurthy. Featured Tamil hero Siva Karthikeyan is playing a special role in the movie. On August 24, the film unit SuccessMeet was set up at the Filmnagar Cultural Center in Hyderabad. At this event ...
Creative Producer KS. Rama Rao said, "Kausalya Krishnamurthy, released on our banner, has been released worldwide on August 23. I congratulate the director Bhimeni Srinivasa Rao, heroine Aishwarya Rajesh, Rajendra Prasad and Karthik Raju. While the film is highly acclaimed, commercial and good success is indispensable. All you need for small budget movies and a purposeful movie to benefit society. Then there is scope for good films in the industry. Kaushalya Krishnamurthy, who once watched the film, says that another great movie like 'Shankarabharanam' and 'Matrudevobhava' are. All of your positive comments have added strength to our film. In the meantime, all websites have written so well, ratings of 3.5 to 4 on all websites. These reviews show how well the media promotes a good movie. Kausalya Krishnamurthy, the proudest of our team, is confident that all of you will contribute to your success. I hope that from this time onwards, creative commercials will come to the movies that are accurate and good purpose and that you will see the same quality and the same integrity in our upcoming films. Also thanks to BA Rajaguri and C Jon Vishwaki who are part of Creative Commercial. '' That said.
Heroine Aishwarya Rajesh said, "Thank you all for getting a good response in Telugu and how good response is in Tamil. There is 70 person occupancy in theaters. Mouth Publicity is also a very good movie. There is also a 92 Person Appreciation at the Bookmay Show. There is good cooperation with the media. Supporting good films like 'Kausalya Krishnamurthy' will only help youngsters like us to act in a variety of films and make good films. Yesterday we watched the movie at our Team All Hyderabad Hyderabad Shanti Theater. There is a good response. Happy to say that we have seen another great movie many years later. Everyone should watch the movie in the theater, '' he said.
Director Bhimeneni Srinivasa Rao said: '' Kausalya Krishnamurthy 'has been getting a great response from all over the place. Foundation story for any movie. We were only half successful in selecting such a good story. The film is similar to many other good films in the past under the Creative Commercial banner. Once again, the film proves that good films come under the banner of Creative Commercial. After the film was released, my friends and industry personalities phoned and applauded. I am very happy to have such a good response after 'Tornado'. Everyone comes to the theater knowing about the movie through the medium available to them. The good news is that the public will publish public films again. Kausalya Krishnamurthy has received positive reviews till 1500. BA Rajaguru struggled more than his own to reenact the film. C Jon Vishwa has been very supportive of digital publicity. My special thanks to Arun Raja Kamarajagari and Tamil hero Siva Karthikeyan for providing such a good story. Kausalya Krishnamurthy said, "My career is going to be a Milestone movie."
Lyricist Rambabu Gosala said: "The film features the song" Rakasi Gadasu Pilla "and the four bit songs that are coming out in the background. The film is a great opportunity to write good songs in the context of the regular elastic KS. Thanks to Rama Rao and Bhiminenigari. "
Producer B.A. Raju said, "No matter how many films we work, some of our life is long. One such great film is 'Kausalya Krishnamurthy'. Standing Ovation is a good evolution of the film and audiences, as well as the media. They contributed to the success of the film with Extraordinary Reviews. This is our media cinema. The film is Success Media Power. I want to take this film to the range where the Grand Success Meet is celebrated. "
C Joan Vishwa said: "Thank you to everyone who made Kausalya Krishnamurthy a success."
Recent News