Jayanth and Payal's NARENDRA
Jayanth and Payal's NARENDRA
03 Feb,2020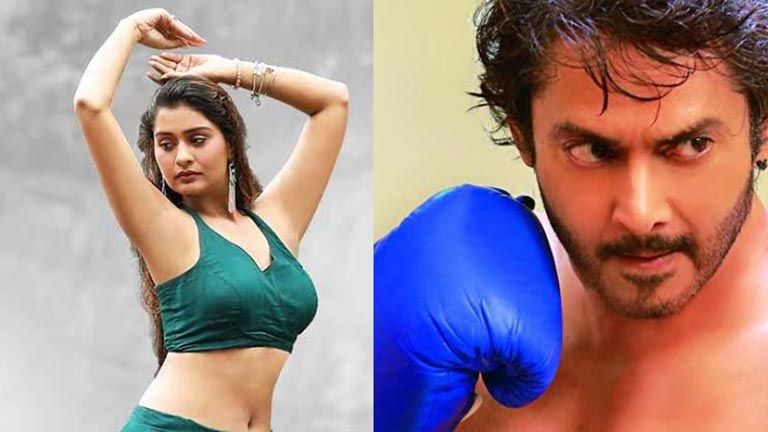 After the unprecedented success in her debut film 'RX100', Payal Rajput established herself as a performer with the Venkatesh -
Naga Chaitanya starrer 'Venky Mama'.

Payal now takes on an fascinating new avatar as a India's first female fighter pilot in Director Jayanth Paranji's new action slammer 'Narendra'.
Is the Indian Air Force pilot's courage and passion enough to combat the enemy as she tries to make her way across the border?

'Narendra' is a classic tale of prison break. Narendra, a retired
Indian boxing champ is physically and emotionally tested as he makes a do or die attempt to escape from entrapment.

The Great Khali plays an Afghan prisoner, who sacrifices himself in his attempt to rescue the Indian prisoners. Izabelle Leite
plays a human rights activist who supports their fight for
freedom.

Will the Indians achieve their last hope of freedom and fulfil
their mission? Will the lie that the enemy has been secreting trigger their eventual downfall?

Jayant Paranji brings a refreshing new twist to an action
thriller, having tasted phenomenal success with commercial
cinema, it's encouraging that Jayant reinvents himself to
provide Telugu cinegoers with a story never seen before on Telugu screen.

Writer, Director: Jayanth C Paranji
Starring: Payal Rajput, The Great Khali, Izabelle Leite,
Nilesh Eti
Music: Ram Sampath
Cinematographer: Viren Thambidorai
Produced by: Eshaan Entertainments
PRO: BA Raju
Recent News