Mr. and Miss Trailer Launch on Director Nag Ashwin's hands !!!
Mr. and Miss Trailer Launch on Director Nag Ashwin's hands !!!
29 Feb,2020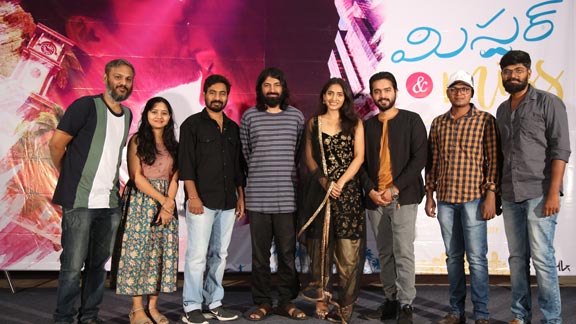 Telugu story and narrative are running towards realistic stories. Naturalism is at the forefront of what distracts youth. Such is the story of "Mr. and Miss" dating and video chatting.
Taste of Telugu audience changes. As far as those changes are concerned
Newly coming makers are coming up with new concepts. So now a movie is going to be Mr. and Miss. The movie is being crowned funded by Ashok Reddy. The film's trailer launch event was held in Hyderabad. Mahanati Director Nag Ashwin was the chief guest at the event.
Director Nag Ashwin said…
Best wishes to members of the Mr. and Miss film unit. I don't believe the big cinema is a short film, but a good movie. The trailer is so good that I believe the audience will definitely be engrossed in watching the movie. I have a good relationship with the film's cinematographer Paroch Manohar, who is making his first time as a first time cameraman, as well as music director Yashwant
He wants to make more good movies.
Heroine Gnaneswari says ...
Watching the trailer was emotional, thanks to Nag Ashwin who came to launch our trailer. This is a movie that we've all worked hard on. The point in the film is to make everyone think. Director Ashok Garu made the film very well and said that I would like to anchorage our film which is coming up at the end of March.
Hero Shailesh Sunny says ...
We are really proud to announce that the National Award Winner Director Nag Ashwin will be launching the trailer for our film. Our film has crowdsourced support. I hope we have Audience Support following the release of the movie tomorrow. Director Ashok and Yashwant Nag are going to be the main highlight of the film. I am taking a vacation in the hope that the magic of our team will be enjoyed by the audience tomorrow
Director Ashok Reddy said ...
The Mr. and Miss trailer is getting a good response. Crowdfunded and made this movie. The film is based on some real events. Sudheer Verma Writing, Manohar Camera Work, Karthik Editing and Yashwant Nag Music are the main highlights of the film, while Anil and Sujith have worked hard in my direction department. Enjoy our movie to be released at the end of March.

Coming as a fully crowded funded movie, the film has an editor: Karthik
Cuts, Songs: Pawan Rachepalli, Costume Designer: Sahasra Reddy, Art
Director: Karish Kumar, Line Producer: Praveen Sagi
Cinematography: Prepared by Manohar, Music by Yashwant Nag, PRO:
GSK Media, Screenplay, Dialogues: Sudhir Verma Pericherla,
Produced by: Crowdfunded, Story, Directed by Ashok Reddy.
Recent News