OO.PE.KU.HA. TEASER LAUNCH
OO.PE.KU.HA. TEASER LAUNCH
19 Feb,2018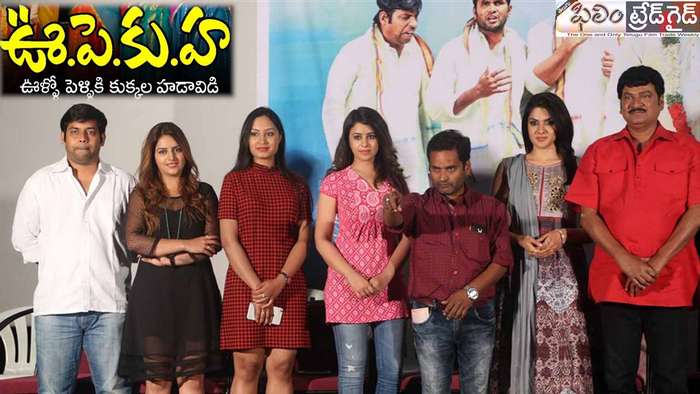 OO.PE.KU.HA. (Oollo Pelliki Kukkala Hadavidi) is the Upcoming Telugu Movie starring Dr. Rajendra Prasad, and Sakshi in the lead roles. The Teaser of this movie Has been launched in Prasad lab, Hyderabad today. The team organised a press meet and briefed the details of this movie.
Hero and Heroine (Dr. Rajendra Prasad & Sakshi) both of them having 6 brothers and sisters each and the drama to get them married creates a humourous comedy which entertains the audience says the director "Nidhi Prasad". He also told that the entire shooting and post production process has been completed and planning to release the movie in summer. we had done a hard and great job with almost 80 artists who played key roles in this movie. I Sincerely thank my Executive producer Mr. Nagaraju who made it possible and with out him it was a typical job for me. All the aritsts were also very much helpful and supported me to complete the schedule with in the time limit. I also thank My Editor SHANKAR, and Music Director ANOOP RUBENS for their sincere efforts to make this movie rich and meaningful.
Heorine Sakshi told " It was a great oppurtunity to act with the legendary star Dr. Rajendra prasad , and all of us enjoyed a lot while in the shooting, I hope we had done our best to entertain the audience and i'm sure the movie will create a huge Buzz.
Producer Vikram Said " This is a different type of comedy movie with almost 80 comedians. On behalf of our team I assure we will entertain our moviegoers along with mass and class audience.
Dr. Rajendra Prasad told " The Producer is a nice person and the industry needs this type of producers. The director NIDHI PRASAD is very humble person and i acted in "andaru Dongale, BhagyaLaxmi Bumper Draw" with this director. He will make his producer to feel comfort and completes the project with in the budjet and time limit. He likes a huge gang in his movies like EVV and Vamshi. This is a different type of comedy gener like "COMEDY ERROR" which creates a huge humour in error situations and entertains the public a lot. I hope all of you will enjoy this movie".
The Cast & Crew
Dr. Rajendra Prasad, Sakshi, Rishi, Khayyum, Krishnudu, Dhanraaj, Ali, Bramhanandam, L.B. Sriram, Jeeva, Krishna Bhagvaan, Benarji, Raghu, Sai, Venu, Hemanth, Shobita Rana, Vennela, Ananya, Shweta menon Etc.

BANNER: J.B. CREATIONS, Producer: Bhagya Laxmi
Director: Nidhi Prasad Music: Anoop Rubens
D.O.P: Vasu Editing: SHANKAR
Lyrics: Kandikonda Executive Producer: Nagaraju

Recent News