Jai Simha Movie Review
Jai Simha Movie Review
12 Jan,2018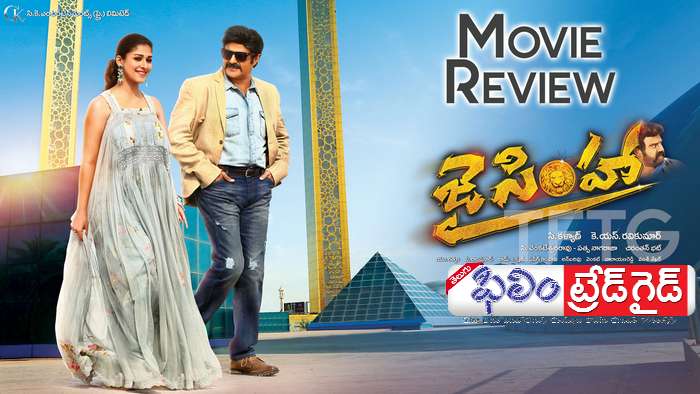 Banner: CK Entertainments Story, Dialogues: M. Gem
Composition: Praveen Antony Music: Chirutan Bhatt
Cinematography: C. Ramprasad Producer: C. Kalyan
Story and direction: KS Ravi Kumar Release date: January 12, 2018
Cast: Nandamuri Balakrishna, Nayanthara, Natasha Doshi, Haripriya, Brahmanandam, Prakashraj, Ashutosh Rana, Prabhakar, Priya, Murali Mohan, Jayaprakasra Reddy
The film 'Jai Simha', released on 102nd film, starring Nandamuri Balakrishna, has been released today. KS. Let's see how this film is directed by Ravikumar.
Story: - Narasimha (Balakrishna) Vizag exchanges with his son's birth and ends in many areas and states, eventually reaching the scandal. So he is working as a driver and grows his girlfriend Gauri (Nayantara) by an incident. But she already had to hate and hate him. Why did he leave Vizag with the original Narasimha son? Why does Gowri, who has been loved by love, see him as an enemy? What was his last? That is the film
Sankranti, Simha ... Both of these are the sentiments of Balayya. There is also a view to the audience that the movie is releasing to Sankranthi and the title is lion in the title. The 'Jai Simha' Balakrishna Trend was provided by KS. Ravikumar tried to make Balakrishna in the style of a mass and family drama in his own style.
Plus points:
* Balakrishna Performance - Balakrishna Dialogues - Balakrishna Dances
* Scandal episode of Brahmins' greatness
* Twist in the interval.
* Energy in Balayya is a flashback episode
* The scenes in the climax.
Minus Points: -
* Balakrishna seems to be like the previous movie like the previous films.
* Nayantara's lack of powerful scenes for the role.
* Brhamhanandam comedy is not in the desired level.
* The absence of the villain character to the level of hero character
* There is not much room for the story of Heroin's characters.
Review: - The graceful dances of Balakrishna in this age lays the energy fans shown in the fights. Mechanic character in the flashback is stylish. In addition to Balayya fans, it is like to have a female audience. Another feature of the film is the absence of a strong emotion on this festival season. The movie with the attention of fans along with commercial elements.
Recent reviews